The new Business Class was unveiled at Dubai Airshow 2017 on the Boeing 777-300ER, then it was retrofitted to the airline's 10 Boeing 777-200LRs (Longer Range). Here's how the new product feels and which are the main differences compared to the previous Business Class.
VOLUME UP! Boeing 777-300ER (A6-EGJ) Emirates departing #Dubai (DXB) bound for Porto (OPO), flight EK197, November 19th.Video: AeronewsGlobal.com ???????? #emirates #UAE #b777

Publicată de Aeronews pe Marţi, 19 noiembrie 2019
Two years ago we've been to Dubai Airshow to witness, first-hand, the global debut of Emirates' new cabins for the Boeing 777-300ER. The highlight of the debut was the new First Class private suite, a game-changer product we've reviewed 4 months later, in March 2018 to Brussels and back (video).
Dubai Airshow 2017 also saw the debut of the new Business Class – which we've also sampled on the flights to BRU and back – as well as a new Economy Class and upgraded IFE. At this year's Dubai Airshow we've experienced the new Business Class again on-board the 777-300ER on static display, so here are our thoughts on the product.
Back in November 2017, Sir Tim Clark, President Emirates Airline, stated: "The in-flight experience is the heart of our brand and service proposition. The new 777 interiors that we are unveiling today are part of Emirates' ongoing investment to continually raise the bar and exceed our customers' expectations. Aside from our new fully enclosed First Class, Business Class features our latest fully-flat leather seats with personal minibars, Economy Class seats have adjustable full leather headrests, and the in-flight entertainment system has been upgraded for all cabin classes. Throughout the aircraft, our customers will see modern and airy cabins, with painstaking attention to detail evident in design touches such as the textured wall & ceiling panels, lighting features and more."
Flying high: Emirates and Mercedes-Benz
As a reminder, the new First Class private suite for Boeing 777 echoes several design lines found in Mercedes-Benz's S-Class flagship limousine. The collaboration with MB is no coincidence as both Emirates and MB are at the forefront of their industries, setting the standard through innovation, latest technologies and customer-oriented products. The partnership between the airline and the car manufacturer inspired several design details in the new First Class private suite, including the soft leather seating, high-tech control panels, and mood lighting. Moreover, Emirates' First Class passengers arriving or departing in the UAE enjoy a complimentary chauffeur-drive service from aircraft to home and vice versa in a Mercedes-Benz S-Class.
New Business Class: sports car-inspired design
The ties with the automotive industry don't end here as they continue also in the new Business Class cabin. Emirates says that the design and shape of its new Business seat on-board the 777 was inspired by the interior of a modern sports car, with a diamond stitch pattern on the full leather cover, ergonomically designed headrest, and a sleek overall look and feel. The seat has a pitch of 72 inches (183 cm) and moves into a fully flat sleeping position. It also has touchscreen controls for the seat and in-flight entertainment system, several personal lighting options, privacy panels between seats, a shoe stowage area, footrest, and a personal mini-bar.
Different layout: 777-300ER versus 777-200LR
Currently, Emirates has 155 Boeing 777s in commercial service (cargo and passenger versions) plus 126 777X on-order. At last month's Dubai Airshow, Emirates placed an order for 50 Airbus A350-900s, as well as 30 Boeing 787-9 Dreamliners. The new First Class private suite can be found on 9 Boeing 777-300ERs, which boast the following layout: 6 First, 42 Business and 306 Economy Class seats. The new Business Class can also be found on 10 Boeing 777-200LRs (38 Business seats and 264 Economy), but in a different layout compared to the 777-300ER: 2-2-2 versus 2-3-2. The clear advantage brought by the Longer Range is that every passenger travelling in the new Business cabin has direct aisle access. As you already know, Emirates' Premium Economy product will be presented in April 2020 at Arabian Travel Market, Dubai and will debut on the Airbus A380 in November 2020.
Retrofitting the new Business Class on the 10 Boeing 777-200LRs was done in Dubai by Emirates Engineering from March 2018 until April 2019. Total cost of the refurbishment, which has been completed 3 months ahead of schedule: over US$150 million. On the 777-200LR there is no First Class, but the Ghaf tree – considered the national tree of the United Arab Emirates, and a signature design on the latest Emirates aircraft – is also present on-board the Triple Seven.
Besides the installation of new seats, the reconfiguration of the 777-200LRs also involved other changes such as new wiring for the lighting systems, raising the ceiling height in the Business Class cabin, and modifying the aircraft galleys to incorporate the new social space in Business. The Engineering team spent over 160,000 man hours on the refurbishment project, working with more than 30 suppliers and handling over 2,700 spare parts. On average, it took about 35 days for the team to completely strip and reconfigure each Boeing 777-200LR.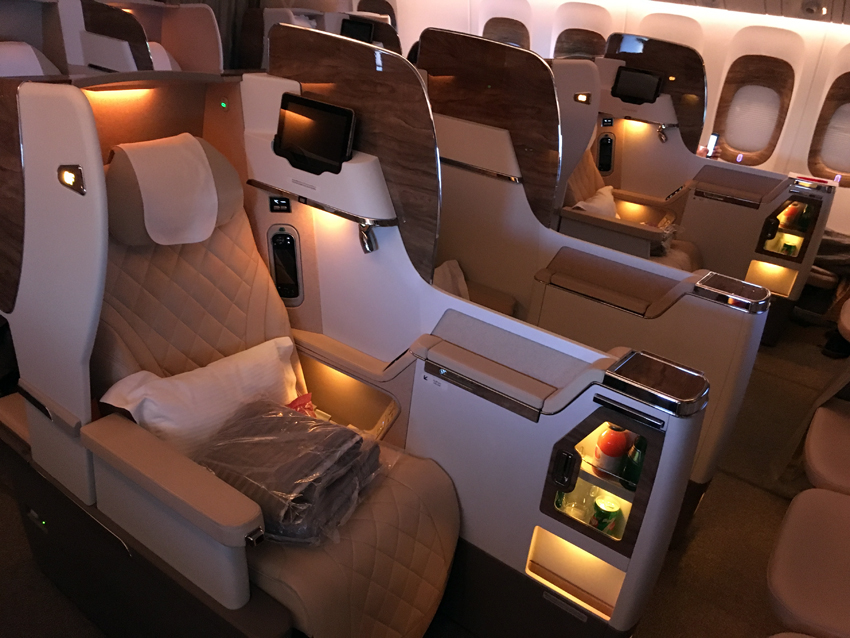 Chauffeur-drive and T3 Business Lounge, DXB airport
If you want to experience the new Business Class on the 777-200LR you can do that also on flights to Porto, a route opened this summer. After spending a few days at Dubai Airshow this November, we've flown to OPO with Emirates, flight EK197. The chauffer-drive from our hotel in Dubai to DXB airport, Terminal 3 – used by Emirates and flydubai (for some destinations) – was in a BMW 5 Series. It's worth mentioning that for some destinations (see the First Class flight we took last year to Brussels and back), Emirates also offers complimentary chauffer-drive from the airport to the hotel, as well as from the hotel to the city's airport on the return flight.
Coming back to our flight to Porto, we've arrived at Terminal 3 after a 20-minute drive. As it was early in the day, the dedicated First and Business Class check-in counters were mostly empty. We didn't use them as we've already checked-in online and only had cabin baggage, so we breezed through security, then headed towards the huge Business Class lounge to unwind before boarding.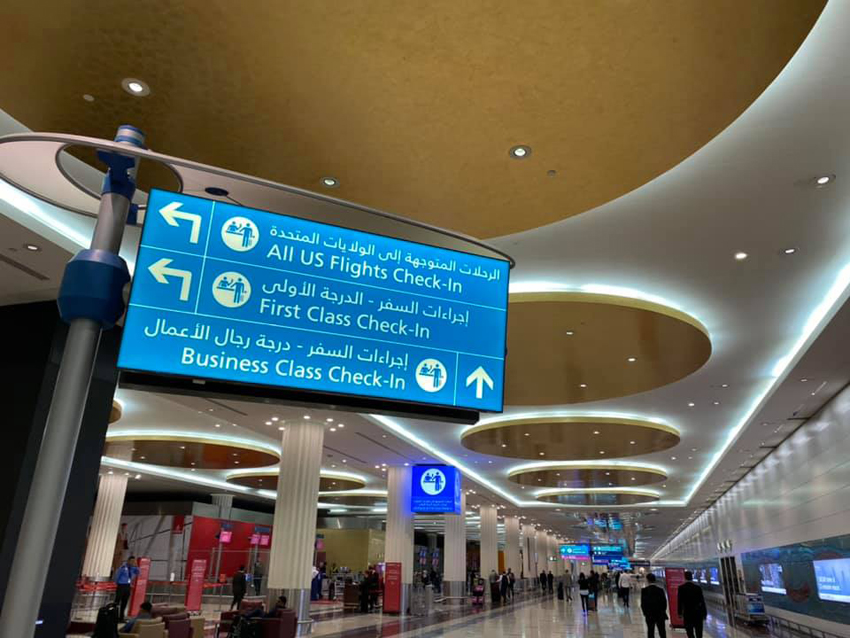 If you're not familiarized with the lounge, you can easily get lost. That's why it's best to spend a few seconds and consult the board at the lounge entrance to have a clear picture of the lounge's areas: Moet & Chandon Champagne Lounge – it's never too early for champagne, right? – children's Play Room, smoking lounge, Quiet lounge, Fine Dining, Costa Coffee, Health Hub, Timeless Spa, prayer room, mother & baby care, and Skywards Desk. For aviation enthusiasts, who always want to photograph planes parked at the gate from the best angle, the lounge offers good views, although the textures on the large windows and the architecture of the lounge, with its design elements, get in the way of getting a great shot of the aircraft.
Our thoughts on the new Business Class
Having flown several times with Emirates in the previous 777 Business Class product, we think that the new one feels more polished, more refined and with better attention to details, regardless where you look. On-board the 777-200LR, the seats are 2 inches (5 cm) wider, improving – even if by a bit – comfort on long-haul flights. Also on the 777-200LR, the overhead bins in the centre of the cabin have been removed for an airier and more spacious feel. Design-wise, the new Business Class colour scheme is more elegant, more refined than the old one, with champagne coloured finish and diamond stitch pattern on the full leather cover for the seats plus the ergonomically designed headrest first unveiled on the 777-300ER.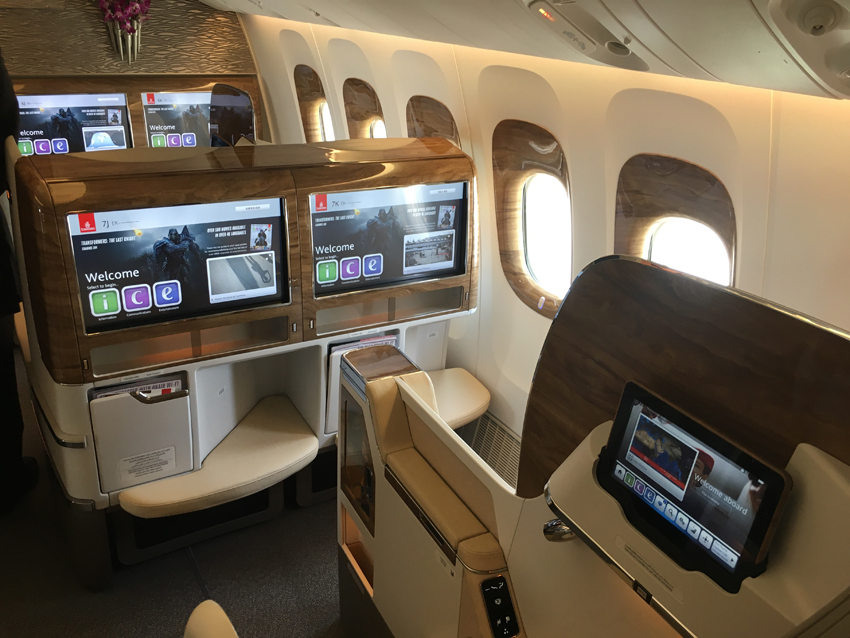 Making new friends at 40,000 feet
We also like the fact that Emirates tried to replicate the on-board bar from its Airbus A380s to the 777-200LR, which boasts a social area in Business Class (not present on the 777-300ER). The mini lounge area features snacks, sandwiches and fruits, as well as beverages for passengers to help themselves to during the flight should the mini-bar found at every seat won't be enough. More than this, the social area is a nice touch and a subtle invitation from Emirates to passengers to socialize, make new friends or business connections while the aircraft is cruising at 40,000 feet.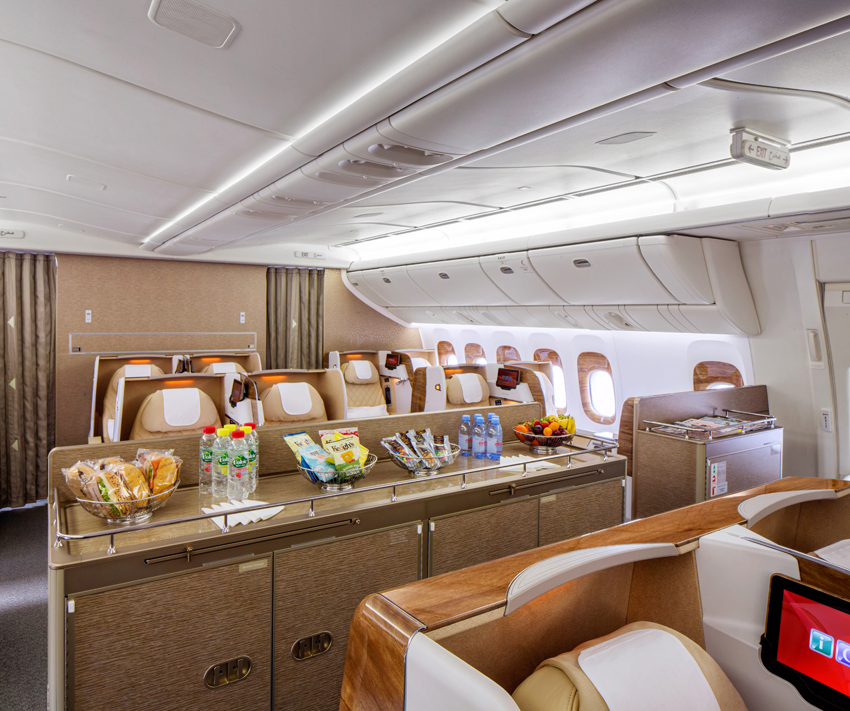 Last, but not least, the new generation of Emirates' award-winning ice inflight entertainment system is present not only in First and Business Class, but also in Economy. Each in-seat screen features ultra-wide viewing angles, a capacitive touch screen, LED backlight and full HD display, providing improved image quality and a richer, more immersive viewing experience. At 23 inches (59 cm) wide, these are the largest screens in Business Class, while the screens in the new First Class private suites are 32 inch (82 cm) wide.
With Emirates' in-flight entertainment system you'll hardly get bored. ice offers up to 1,500 movies from all genres and in 44 languages. The ice catalogue is updated monthly with approximately 100 new movies from around the world as well as music, TV shows and documentaries. To help passengers plan their trip more effectively, Emirates introduced a new function on its app to allow customers to browse the expansive entertainment catalogue, create bespoke playlists ahead of their flight and then sync it to their seats once they arrive on-board. The youngest passengers are catered for with a large selection of children's movies and TV channels. ice also features varied content such as Emirates' own Food and Wine Channels giving customers a behind-the-scenes look at how it creates its onboard menus, expert-led LinkedIn Learning courses and uTalk language lessons for beginners. Photos: Teodor Stefan / Aeronews, Emirates.
Dubai Airshow / Boeing will position a 777X test aircraft in Dubai in summer 2020.
Follow us also on twitter.com/AeronewsGlobal and www.linkedin.com/company/aeronews