He flies the MiG-21 LanceR like few pilots do. He thrills the public at numerous airshows in Romania and abroad with spectacular aerobatic evolutions. A chat with Commander Gheorghe "Gica" Stancu (Borcea 86 Air Force Base) is always a pleasure. Especially when it is followed by an aerobatic training flight for NATO Days Ostrava which we've witnessed first hand.
A few words about the beginning of your career
I started flying in 1986 at the Military School of Aviation Officers Aurel Vlaicu from Bobocu. "Pilot factory", as we called it. In the first year I did theoretical training, then in 1987 we started flying with YAK-52, propeller plane. At first I flew around 20 hours in the first year, and then I reached the aerobatics and high aerobatics (turning, looping, Immelmann, pendulum, pitch). The most beautiful wish is made with YAK-52. The following year I flew with YAK, about 17 hours, and got to the track with the band. I was crazy!
In year 3 I went directly on L-39, I did not fly on L-29 anymore. I thought it was a special aircraft, a "limousine". We could adjust the temperature, the plane had an RNAV system, an eyepiece, a jet engine. Two years I flew with the L-39 and accumulated 100 hours, required to pass the MiG-21. After graduation I went to Bacau, where I did the MiG-21 Fishbed, for 3 months, and then I was assigned to the Borcea 86th Aviation Regiment. For 26 years I have been flying here on Borcea. Over the last 30 years we have accumulated about 3000 flight hours, almost 100 hours each year. I started as a lieutenant, I became a commander, now I am flight coordinator-instructor at 86 Air Base, which is responsible for the theoretical and practical training of the subordinate personnel.
Which aircraft have you flown with so far?
I flew on many aircraft. Besides YAK-52 and L-39 I flew with Alphajet, F-15, Harrier, F-16, Panavia Tornado, Eurofighter Typhoon, IAR 330L. Without a doubt, the Typhoon I found most impressive. I flew it in 2007 with an Italian and I was delighted as an airplane. In 2nd place would be Alphajet, it was the first plane with which I did complete aerobatics, with the tour at 80%. Next is the F-15 (with which I also made refueling in the air) and then the F-16, which has the MiG-21 similar avionics.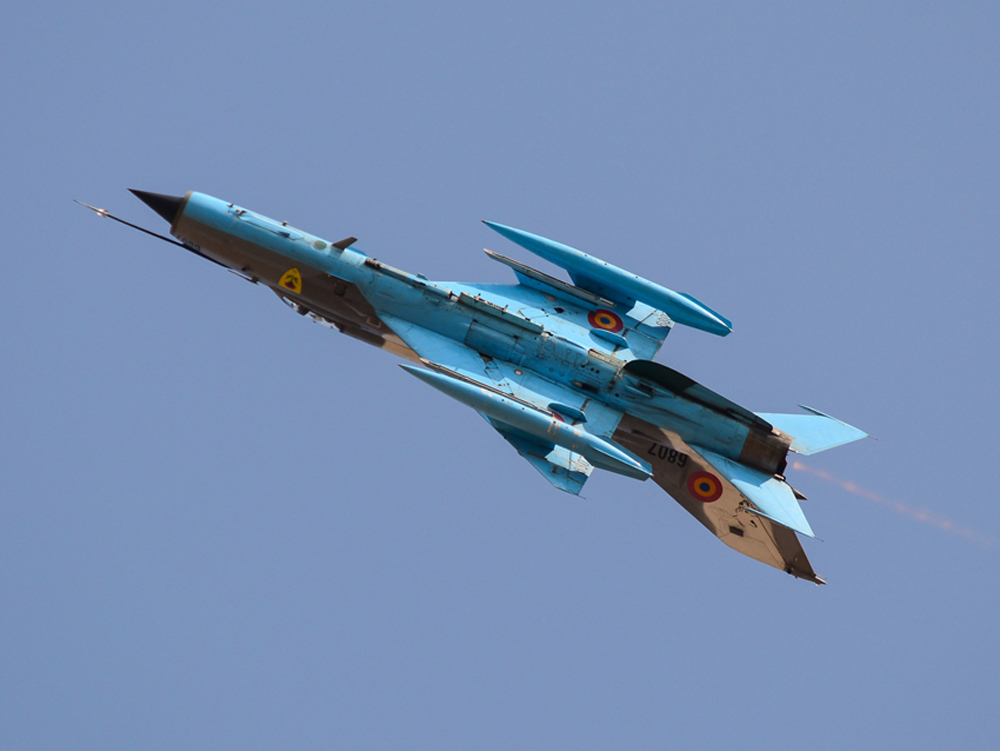 Beautiful moments you remember with pleasure, but also difficult moments
The most beautiful moments are related to the MiG-21 Fishbed. One that I will never forget: an interception with the patrol in the stratosphere, carried out on Borcea, 23 years ago. It is sensational to see 4 condensation donations from the teammate position no. 3, to perform supersonic interception at Mach 1.5-1.6 and to lower the target. All four of us had the rating "very good". Commander of the band was Comsa Comsa, after which Paul Areanu, and I was with Vasile Serbanescu, patrol 2. I will never forget that! Throughout my career I participated in many air meetings, but the most impressive was in Paris, in 2008, on the National Day of France, when I flew over Champs-Elysee with 70 planes and 60 helicopters. It was an extraordinary moment, I felt very good!
Difficult times? When you lose your comrades. When I started the flight with MiG-21, on July 9, 1991 I lost two colleagues with double (MiG-21 with two places): the girl Florică Trusa and Pintilie. These are the hardest moments … A colleague said that a pilot has 2 bags at the beginning of his career: one full of luck and another empty with experience. Ideally, when the lucky bag is over, the one with experience will be full.
Technical problems with the aircraft or due to weather conditions?
4 or 5 years ago, on a night flight I was left without the navigation system and had to reach Borcea. It is vital that you always know where you are, after which you help yourself with the classic devices (compass, ARK) and eventually get home. It happened to me again in 2013 when I came from Poland. I used the spare devices: I took the VOR from Cluj, on radial 120, and I flew 20 minutes to the vertical CLJ. Then the NDB from Campia Turzii and on the slope returned its navigation system. If you do not have enough experience for such cases, luck cannot help you. Another thing: when I was a lieutenant, I ran out of Pitot tubes. They had become congested due to the ice and I managed to reach the destination. You come after the turn and the pitch angle. Then I was lucky, but I knew very well the special procedures and cases. Also, knowing the checklist helps you in such situations.
What does flying mean for Gica Stancu?
I do not conceive to live without flight, it is another life! Up there I feel the best, and the feeling is hard to describe. To really feel it, you have to live those moments. I feel great up there, I feel like I'm living! As with the first flight, I enjoy every second spent above the clouds. Maybe even more acute now, after years and thousands of hours of flight, than at first. I think with horror that I will have to give up at some point. But I still have 2-3 years until then. I also consider the option of continuing to Civil Aviation after the Military Aviation because, as I said, without flight I suffocate.
What sacrifices requires this job and for whom?
As far as I'm concerned, I can't talk about sacrifices because I do what I do for pleasure. Someone's word: peak, I'm still paid for it! The family makes the sacrifice. I have not had any spare time in recent years, and the family has suffered. I went to many courses, missions, exercises, and my wife was also head of training and teammate. It was hard for her. So she should be asked whether or not they made these sacrifices. Our daughter is 21 years old, she is a third year student at the Faculty of Business and Tourism. I am proud of her because she is as ambitious as I am. When a thing begins, it is not left until it is finished and if it has all started, it does as well as it can. Returning to his wife, he knew what awaited her. I told him where he was going: we went to a colony with no cinema, no theater, nothing-nothing. I still remember my wife's reply: "I'm coming after you to the end of the world!" We stayed 14 years in Borcea, 7 years in Fetesti and for 2 years we moved to Bucharest. Now is my time to make sacrifices with the shuttle.
What qualities should a future military pilot have?
First of all, perfect health. There are many complicated tests that you must pass at the National Institute of Aeronautical and Space Medicine. Then the iron will is needed. You also have to learn a lot. And not just in the beginning, but all your life, until you retire. And the hardest thing is to make sacrifices. In short, those who want to have a lot of patience and to study hard. He must prepare for what is worse and hope for what is best. Only so you can resist. It is a very complicated and complex life, you have to answer many challenges.
The experience of your first flight
I had it with YAK-52, in Focsani, somewhere in May 1987. It was a reconnaissance route of the aerodrome area. Too many did not understand. Being the first time, the body was trying to adapt to the new environment. It was difficult, only at landing I realized where I am. That's how the first flight went. Then the pleasure of flying began to appear, that impossible feeling to describe about which I was talking about above.
Evolutions at airshows. What do you feel then, but also after landing?
It is a feeling of accomplishment, the result of many years of study and exercises. Everything I have learned so far translates into 10-12 minutes of aerobatic flight. We all want to get up there, fly, and that's why I think so many people come to airshows, for the fascination of the flight, for the addiction it causes to those passionate about aviation. And I'm glad I can give them those moments of joy!
How do you prepare for an aerobatic flight at the airshow?
I do an aerobatic program that I submit for approval. In principle, the program is about the same as airshows, there are no radical changes. And this is because it is not easy to do different aerobatic figures with the MiG 21. For example, in 2010, at the Otopeni airshow, the fortress was very difficult to couple. In such cases, there are not many solutions, the only catapult. That's why I gave up this figure. Otherwise, I have a standard program that I respect: overturning, looping Immelmann, sliding flight – which is characteristic to me, with the greeting V from "victory", landing from overturning – quite complicated, especially with this plane. I think doing aerobatics with MiG-21 is a real art.
The strengths and weaknesses of the MiG-21 LanceR
Worst aspect – the traction / weight ratio is very small. Another aspect: loading the wing. Aviation enthusiasts know that the relative thickness of the wing is small. MiG-21 was designed for speed and height, front interceptor, not for aerobatic flight. Good points: it has very small radar footprint, under 1.2 square meters, which makes it difficult to detect by radar. This gives us a huge advantage to get closer to the enemy and take him down. Loud noise – impressive at air shows – and the characteristic shape, I would say shark. The MiG 21 looks great in the air. Some call it "pipe", even so it is: a pipe with two small wings. The bearing surface of a MiG-21 LanceR is small, 23 square meters. Front interceptor. However, he was the first to overcome Mach 2, with the constructive solution of the cone in 4 pressure jumps and with the delta wing. He had many speed and height records …
What does a day at the office look like for pilot Gica Stancu?
The day starts very early. We wake up at 6, at 7 we leave with the minibus, at 8 we start the mission brief, from 9 flight. We do a lot of theoretical training, and then we fly. In principle, two or three outings if you are an instructor. If you are younger, there are about 3-4 exits, mainly interceptions, aerial fights, etc. We prepare the young ones exactly for the basic mission of the squadron, the Air Police. They fly more, we assist them, we make them targets, we train them. About 7 hours after the flight program ends, we then do an hour of debriefing. We analyze each stage of the flight, each student, to make things right. We add another hour to restore the capacity, so about 12 hours our program lasts daily. From 08:00 until 20:00, the earliest.
How is it to get involved in a dogfight?
We have done this many times and we have had many victories during the exercises. The first "match" of this kind we had in Turkey in 2004 against the F-4 Phantom Turkish Air Force. I took him to the gun. I liked. Being the first victory in a dogfight, you are enjoying yourself, you start and you scream up there, you smile. You feel great, you are at the height of happiness. I did dogfight and against the F-16 here in Romania, in 2007. I won and then I ran after everything. They also counted experience plus training hours, but I was lucky.
A few words about the transition to F-16
I will not be part of this transition – those over 40 will not fly the F-16, so I cannot say much. I will finish my career on the MiG 21 LanceR. As I told you, I flew the F-16 in the US at Dannelly Airfield, Montgomery. I liked to fly with it, an interesting experience. The plane is very maneuverable. The joystick does not move, like other airplanes (Tornado, Eurofighter, F-15), but you just put pressure on the stick. I think whoever flies with the MiG-21 can fly with any other type of aircraft and I am lucky that I got to see my dream fulfilled!
Follow us also on twitter.com/AeronewsGlobal and www.linkedin.com/company/aeronews